Ardtornish estate has its own home farm, run in two separate units. Ardtornish farm is the larger, based at Acharn. It has 1,000 hill sheep (mainly blackface – bred here for over 100 years – but with some Cheviot crosses), and about 160 hill cows. Inninmore farm is smaller, based at Old Ardtornish. It is farmed organically, with 18 cows and 650 sheep.
Estate Beef, Mutton & Lamb
The sheep lamb in the spring, and we sell the lambs and the older ewes (breeding females) in the autumn, mainly through the livestock market near Fort William.  They go on to be fattened elsewhere. Likewise with the calves and old cows.  The calves are born in the early spring, and sold through the market in the autumn, when they're approaching nine months old.
We sell beef from our Highland cattle, lamb, and from the older sheep, mutton.  We also sell venison.  We have a wide range of cuts, from prime fillet steak to burgers, mince, and stewing steak. It's available for sale in our Gift Shop & Information Centre. The quality is excellent.  Please ask when you visit about recipes.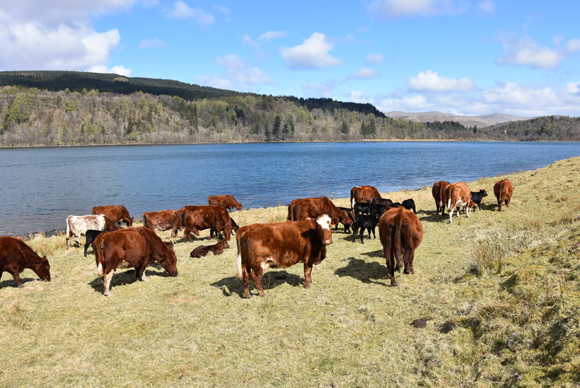 Inninmore Farm
We try to operate our beef enterprise as a closed herd, for biosecurity, with very few imported animals. We have pedigree Highland cattle, which are crossed and crossed again with bulls of the Short Horn, Aberdeen Angus, Simmental and Charolais breeds to produce a range of breeding cows best suited to local conditions.