CEO UPDATE
Spring is upon us and after a long hard winter we are looking forward to warmer weather. My team is completing preparations for the new season. DA MacDonald, our main contractor on the hydro work is completing the work programme on the Socaich extension and the estate is being tidied with much of the heavy plant and equipment being removed. We are landscaping areas previously used for storage of hydro equipment and this is starting to bring large parts of the Achranich area and close environs back to former glory.
Alan Kennedy is driving the various initiatives that we have been working on in Land Management, specifically around land regeneration, with special interest in deer management, rivers and field restoration work. There is much to do and we are tackling this important area of activity with more of Alan's time being dedicated to the work.
Kat McLaughlin is now coordinating and managing many of our construction projects and will do so with our in-house team and contractors and the ever-watchful eye of John Renshaw, our estate architect. As I have reported previously we have a range of interesting and important construction projects running and in no particular order the new lift at Ardtornish House, Biomass II and the work at Torr Molach continue to engage us in challenging work!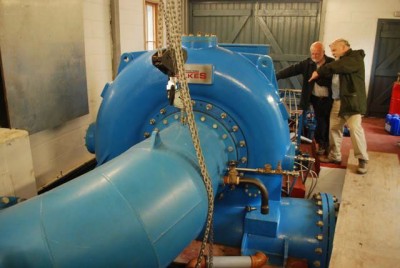 Finally and by no means least, Angus Robertson, has announced his retirement from working life at Ardtornish. This will bring to an end a career of more than 30 years of dedicated service, for which I would like to thank him on behalf of my colleagues and the Board. He has been at Ardtornish, I think the expression would be 'man and boy' and leaves a wonderful and sustainable energy business with us for the next 20 years. Good luck Angus in whatever you decide to do next!
If anyone would like to feed anything back to me or has any questions about Ardtornish, please feel free to contact me through our office switchboard or on my e-mail address below.
tony@ardtornish.co.uk
Enjoy the rest of our newsletter and your summer.
Regards, Tony
Notes from Morvern:
10 Years of the Andrew Raven Trust is a new limited edition publication commissioned by the Trustees of the Andrew Raven Trust to mark its work to date in Morvern, North Argyll. The book, which was published in 2017, consists of ten new essays by the highly-acclaimed writer Adam Nicolson to reflect the different themes connected to rural development explored by the Trust in its annual weekend events held at Ardtornish House in Morvern. Topics range from how we use our natural resources such as wood and water to how we might build more sustainable rural housing and how we make thriving communities: all explored in Adam's beautiful prose. The essays are supported by over sixty colour illustrations, many lent by Morvern residents; an introduction to the Trust by Amanda Raven; a reflective concluding essay by Simon Pepper OBE Founding Chair of the Trust and four poems courtesy of Thomas A Clark. Copies of this inspiring and timely book are available from Alan Kennedy in the Ardtornish Estate Office at £20 plus £3 P&P.
ESTATE NEWS
Alan Kennedy writes:
ESTATE
Site servicing for the second tranche of affordable houses at Achabeag is well underway. Work on the first two of five houses is due to start soon. We've finally prepared the groundwork for the new lift in the house and are now at the mercy of the installer, who we hope will complete before the end of June.
Fingers crossed!
Two new native woodlands in the White Glen are close to planting; one above the existing conifer plantation at Be'ach, the other on the western slope of Meall Damh, across the river opposite Baxter's camp.
FARM
Our away – wintered cows are back in Morvern. They're in good shape and now calving. We continue to reduce the hill flock. We cleared the Reserve and Crosben at the back end and are clearing Be'ach and Altnahonaich hirsels in time for summer.
Much needed bank restoration and re-fencing on the popular walk along the Aline between Achnagown Bridge and Loch Arienas are just about finished. We've installed new cattle handling facilities and lighting in the steading at Inninmore.
We are now looking to recruit a new farm leader to take the farm forward into the coming decades and work through the changes that will be required to accommodate Brexit and the new sustainable approach in farming.
TOURISM
Kat McLaughlin writes:
Spring is upon us and we are looking forward to a busy Easter, May holiday period and summer. We hope to welcome our visitors both new and old.
Winter projects have kept us busy and have included a new kitchen in the Nursery flat and fitting of a luxury wool carpet in the Southwing sitting room.
Our holiday-let portfolio is expanding with the addition of a stunning new lochside cottage.
Castle cottage 1, the neighbour to our current Castle cottage, featured on our website, is a single storey semi -detached cottage overlooking the mouth of the River Aline below Kinlochaline Castle. It has a substantial garden with wonderful views and can sleep 4.
We have a few new faces within the tourism team ready to welcome you in 2018. Kenny McLaughlin joined the department as the Assistant manager and will be leading our housekeeping team and partners, Tegan and Adam have also joined the team for the season, as housekeepers, and will be staying on site in Craigbhea 2.
KITCHEN GARDEN
Richard van de Peer writes:
Progress at the Kitchen garden continues at a pace, Spring is always a busy time of year with sowing and planting for the coming season but things are especially busy this year as we will be trialing the sale of bedding plants, vegetable plants and cut flowers this year to see if there is a market for these high value products. I would estimate that we have sown three times the amount of seed compared to previous years.
In addition, a large new growing area has been established adjacent to Garden cottage for potatoes, courgettes and squash. We have also planted a shelterbelt comprising native hedgerow species sourced locally.
Clearance has commenced on an area near the garden that was once used for fruit production, which will now be planted predominantly with willow, grown to provide riverbank erosion protection through willow spiling. This involves weaving willow into the riverbank to create a living willow wall, maintaining riverbank stability and increasing biodiversity.
Thankfully we have had a great deal of help this year through hosting volunteers from all over the world through the WWOOF scheme, whereby we provide food and lodging in exchange for work.