What better way to kick off the Year than an evening with our national dish and our national poet. No other food can lay such a strong claim as Haggis, Neeps and Tatties to being the soul food of a nation, a meal that binds us together as we celebrate what truly makes us Scottish.
Haggis can be eaten at any time of the year, as filling for beef olives, with jalapenos on top of nachos, as topping on a pizza or in Indian pakora, but the classic dish is simple and straightforward and part of the appeal is that it has remained relatively unchanged for centuries.
Burns Suppers originated not long after the death of Robert Burns in the late 18th century. His friends would gather to remember his life and poetry once a year on the anniversary of his birth, the 25th of January. Since then the practice has spread throughout the country and to expatriate communities around the world, there are many formal rituals which have evolved over time but the common thing that all Burns Suppers share is the basic element of that one simple dish, Haggis served with mashed turnip and potatoes.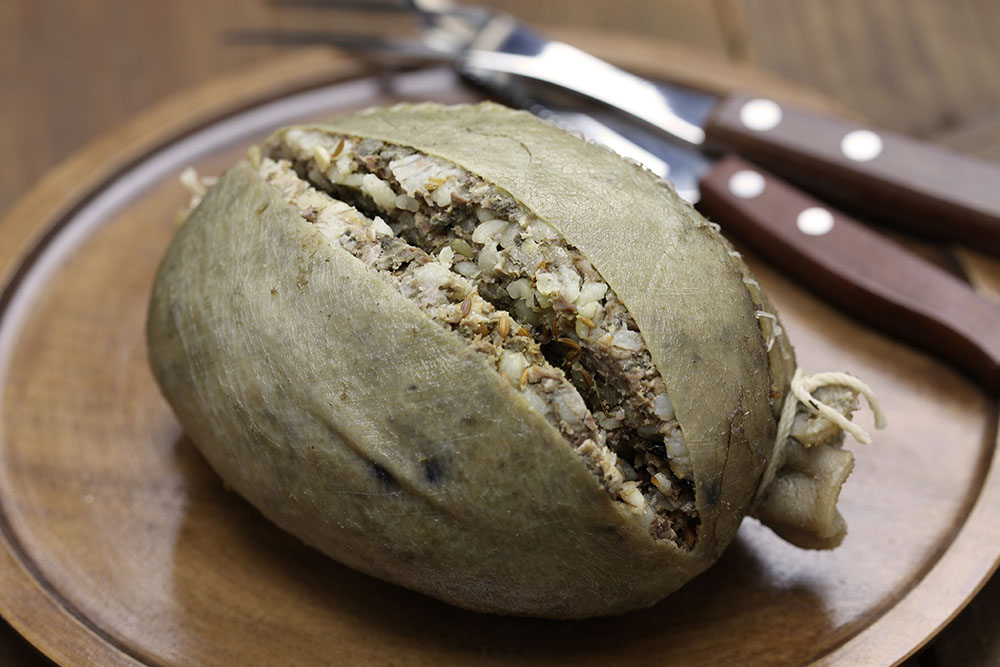 Although its exact origins are unclear there is little dispute about the preparation of the haggis, it utilises a sheep's heart, lungs and liver along with oatmeal and some simple spices. It is common today to buy a local butchers own recipe, but we are including the full recipe here for those who are a bit more adventurous and who can locate a sympathetic butcher. Sourcing the haggis casing is relatively simple online, traditionally the haggis was stuffed into a sheep's stomach but nowadays beef bungs are most commonly used.
Ingredients
A sheep's heart, lungs and liver (cleaned by a butcher)

3 cups finely chopped suet

One cup medium ground oatmeal

Two finely chopped onions

250g turnip cut into small cubes

Two tablespoons double cream
Method
Wash the lungs, heart and liver. Place in large pan of cold water and bring to the boil. Cook for about 2 hours. When cooked, strain off the stock and set it aside.
Mince the lungs, heart and liver.
Toast the oatmeal in the oven until it is dried out and a little bit crispy then place in a bowl with the minced mixture, the finely chopped onions, suet and seasoning.
Mix well and add enough stock to moisten the mixture. It should have a soft crumbly consistency.
Spoon the mixture into beef bung so it's just over half full. Then press out the air and tie the open ends tightly with string. Make sure that you leave room for the mixture to expand or else it may burst while cooking.
Put the haggis in a pan of boiling water (enough to cover it) and cook for 3 hours without a lid. Keep adding more water to keep it covered. Avoid boiling too vigorously so you don't burst the skin.
I like to use Desiree potatoes as they have a firm, creamy tasting flesh making them ideal for mashing. Cook them as you normally would, without the skins and mash with the cream and half the butter.
The turnips should be prepared in a similar way and mashed at the last minute with butter and a touch of pepper.
This recipe is about as traditional as is reasonably practical, the emphasis should be on something that is wholesome and comforting. In my opinion this is not fine dining, nor should it be restricted to only one evening a year. This is peasant food for the masses, a glorious celebration of a hearty unpretentious uniquely Scottish tradition.
There is no real agreement on what you should serve before or after your haggis as long as it is Scottish or traditional. For a banquet the other courses should be small or subtle, you should not try and draw attention away from the star attraction of the evening. A thin scots broth would be my ideal starter, a clootie dumpling with whisky sauce for pudding and oatcakes and cheese to finish. Single malt should accompany everything.
Burns Suppers can be about more than just eating haggis. In many places the evening has evolved into a formal, strictly regulated pantomime. To outsiders the ritual of tartan clad guests standing as bagpipers accompany the haggis to the table before it is formally addressed, toasted then consumed is a bit of a historical anachronism. Who can judge if it's what our national bard may have approved of but certainly Burns was for everyone and likewise so is haggis.