The coming of winter means different things to different people. For some it's Brussels sprouts, garish Christmas jumpers and office party misbehavior, but for me it is the opportunity to sample my favorite festive indulgence – a hot toddy by the fire.
Time and place are essential elements in this recipe. For me this is comfy armchair beside a well stoked peat fire in my parents' house in the islands. Dark has fallen, dinner is not yet ready but I have earned this winter warmer by virtue of being outside in the snow all day.
As a child, a hot toddy was frequently prescribed for minor ailments and would contain cheap whisky and all manner of sweeteners and spices, and as such tasted of medicine. Now a grown up (and a traditionalist) I find there is no need to spoil such an indulgence with too much in the way of additives. I have chosen an Islay single malt because it complements the aroma of the peat fire, this this is a drink you smell and feel as well as taste.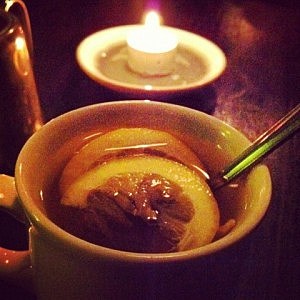 Quick preparation is vital, part of the appeal is the warming effects after being outdoors so I think it should be kept simple and served in a large mug you can clasp with both hands.
Ingredients
A double house measure of a peaty Islay single malt like Ardbeg
You are allowed to substitute honey for brown sugar but only if you drop the lemon. Otherwise this becomes medicine and ends up tasting like lemsip.
Whisky for breakfast is a sure sign that you have been living on the Hebrides too long but we just can't help ourselves at this time of year. Whisky and coffee are two of our favourite things in the world so we need no excuse to combine them at every opportunity. To counteract the sedative qualities of the whisky it is preferable for morning imbibition to combine it with a very strong double espresso. I would retrieve a Speyside from the back of the cabinet for this, the spicy qualities blend better with the smell from the freshly ground coffee. A stovetop espresso maker that makes six shots or more is perfect as it almost fills a large mug, top up with a double shot of Benromach or Cardhu. If you are having whisky porridge or piloting the Calmac ferry then maybe a single shot will suffice.
Wine is not our tipple of choice here but we love the social aspect of preparing and dishing out large quantities. As opposed to a hot toddy which is drunk indoors after a winter day out, mulled wine just seems better served outdoors, standing up, in a wooly hat. On the ski pistes of Europe, gluhwein is served as a bit of a pick me up in the middle of the day and that is to me what a good glass of mulled wine should do. An armistice in the middle of a snowball fight or while waiting for the ambulance to arrive to tend to the sledging accidents are probably my perfect mulled wine moments.
While a toddy should be kept simple and spice free, when preparing mulled wine anything goes. Take a large pot and slowly warm up whatever you have at hand. Part of the attraction is that it is different every time and you never quite know for sure what you are going to find in your glass. I like mine fruity and spicy as opposed to manically strong, there are better ways to get drunk if that's your focus and remember this is a mid-activity drink, you still have to make it home.
Ingredients
A house measure of Apricot brandy

A house measure of Sloe gin

1 Orange chopped in half with cloves pushed into the skin
Put all the ingredients in a large pot and bring up to temperature slowly without boiling.
Simmer for about 10 minutes then ladle into old fashioned pint glasses with handles to serve.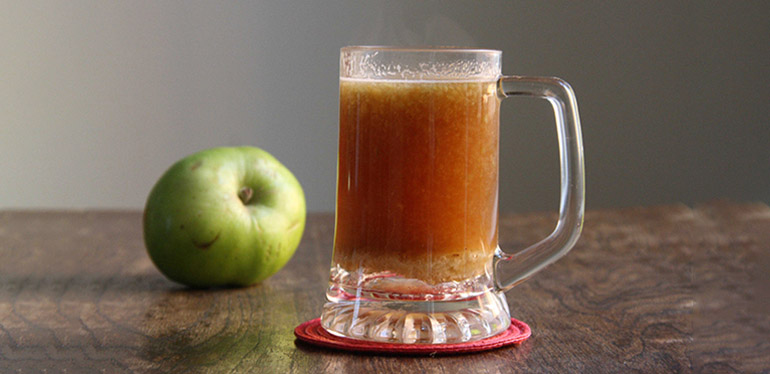 Wine is not the only thing you can mull. For centuries it was the drink of choice in taverns across the land, only falling from fashion with the advent of refrigeration. This is a traditional recipe, prefect for long winter evenings in good company. It's a sociable drink for medieval revelry, so clink your glasses, tell some stories and misbehave.
Ingredients
2 Litres traditional style ale
Infuse the nutmeg, ginger and cinnamon in hot water before cooling and then straining. This is then added to the ale along with the brandy, sugar, eggs and cream. For a truly traditional finish the entire mixture is reheated using a poker drawn from the hot coals of a fire. While this is warming up roast 4 apples in the oven until the skins burst, drop one in each tankard then top up with your heated mixture.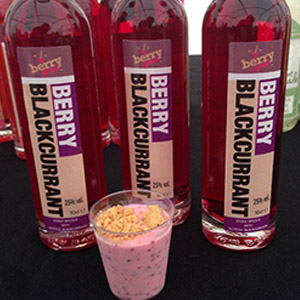 The following recipe has been adapted from one by our good friends at Berry Good. We have turned what was a light and summery desert in a glass into something a bit heartier for the winter. The lurid colour and fruitiness will appeal to a younger generation more used to alcopops.
Ingredients
2 Tablespoons Mascarpone cheese

2 Tablespoons Philadelphia cheese

20ml Knockfarrel Elderflower cordial

50ml Berry Good Blackcurrant Vodka

A Handful of fresh Blackcurrants

2 Crushed Digestive biscuits
Place everything in a blender and blend until smooth then heat gently in a pan while stirring continuously. Serve with a spoon in a large mug topped with whipped cream and crushed almonds.
After Christmas day turkey gluttony there is something soothing about a creamy liqueur coffee to finish the day off. Drambuie or baileys works best as the accompaniment to a smooth highland malt. Nothing older than 10 years though, I wouldn't want to overpower the sweetness. Espresso roast will give a satisfying kick and whipped cream on the top will remind you that this actually qualifies as second pudding.
Ingredients
1 measure Drambuie or Baileys

Hot milk to fill the tall glass almost to the brim

Double cream, chocolate sprinkles and a flake for the top